In Ukraine, 74 companies export honey. Despite a number of last year's problems, Ukrainian producers have set another record

- for the first time since independence, the volume of honey exports exceeded the mark of 80 thousand tons. This is stated in the article "Record honey exports: what does the" sweet market "in Ukraine".

 Various market players explain such export volumes by the fact that there is a significant shadow turnover of honey products in Ukraine and the record volume of exports in 2020 is proof of that.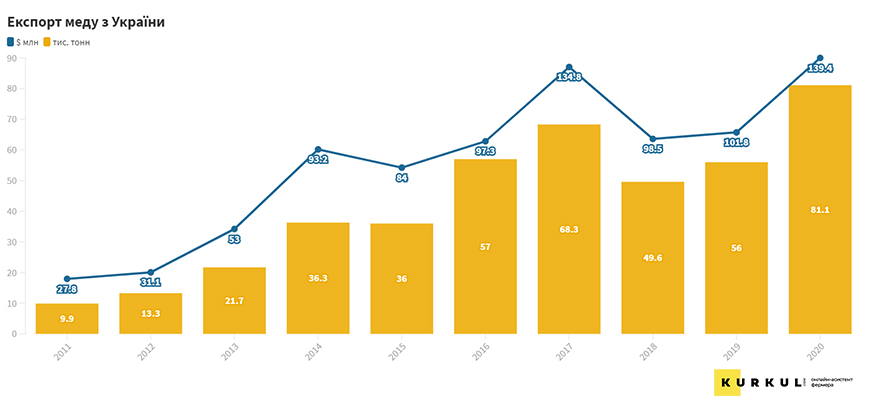 Also last season, the sown area under sunflower was expanded by 534 thousand hectares, thanks to which it was possible to increase the production of sunflower honey and thus compensate for the shortage of spring varieties.

 "But there is a third important factor: significant transitional balances. According to approximate estimates of honey market analysts, in Ukraine the volume of unsold stocks "on hand" in beekeepers is about 35 thousand tons, passing from year to year. Such a significant amount has constantly put pressure on the purchase prices of this sweet product, "the article reads.
 But the global pandemic COVID-19 has made its adjustments and the consumption of honey in the world has increased, which allowed to "clean up" the stocks of Ukrainian beekeepers. In 2020, the first and second waves of coronavirus spread occurred during the "high season" for Ukrainian honey exporters, namely in February-May and September-December, providing higher volumes of export shipments compared to 2019. 
Last updated: 21 - Sep - 2021