The first vending machine for honey appeared in Varna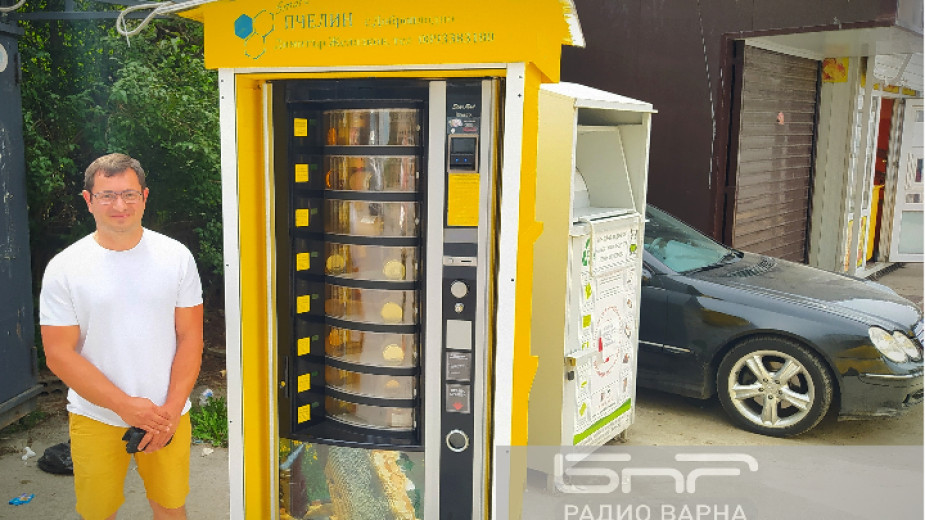 After the street coffee machines, the milk machines and the vending machines for cold drinks and fast snacks, the first honey machine has already started operating in Varna. The vending machine for the natural bee product is located in the Chaika district of Varna, next to the market for about 20 days.
The idea is of the young and enterprising beekeeper Dimitar Zhelyazkov . He has been involved in beekeeping and honey production for almost 20 years, and in the beginning it was just his hobby.
In line with the new technologies, where everything is "smart" – from English "smart, intelligent", Dimitar christens the honey machine – Smart apiary. All he offers is entirely his products, which he guarantees are pure and natural.
Together with his family, Zhelyazkov raises 360 bee families. The real apiary, where the hard-working bees work, is in a forest near the village of Dobroplodno and is 4 km away. from populated areas.
The production depends a lot on the climatic conditions and the seasonal yield, the beekeeper said. Currently, the machine offers two types of honey: one is a bouquet of acacia, hawthorn and thyme, and the second – a bouquet of linden, dracaena, sunflower and thistle. There are two cuts – jars of 500 g and 800 g. The beekeeper's idea is to get feedback from the end user and make distribution easier and more accessible. The vending machine attracts the attention of Varna residents. Most accept the innovation with interest and approval.
Source of information: BNR, Radio Varna
Last updated: 26 - Jul - 2021